BrightMont Montessori School offers Our comprehensive and developmentally appropriate program is designed to promote each child's intellectual, social, physical and emotional growth. Children work at their own pace and choose their own activities. Activities are thoughtfully designed to encourage hand movements and coordination.
Curriculum Focus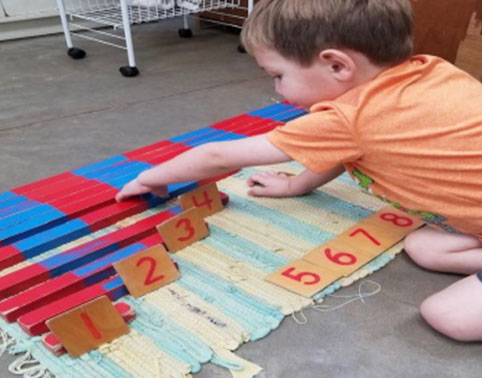 Practical Life
Sensorial Exercises
Practical Life
Practical Life is the true heart of a Montessori classroom. By working on real-life asks, children develop their independence thru daily activities such as eating dressing, and cleaning. Teachers demonstrate these tasks that explore caring for the environment and the self, encouraging responsibility and promoting self-esteem.
Sensorial Exercises
Sensorial Exercises are designed specifically to awaken children's senses and enable them to gain an awareness of the world around them. The materials used in sensorial exercises help children become aware of details and makes it distinct and understandable. Materials are defined by concepts such as weight, size, shape, color, sound, smell, and texture.
Language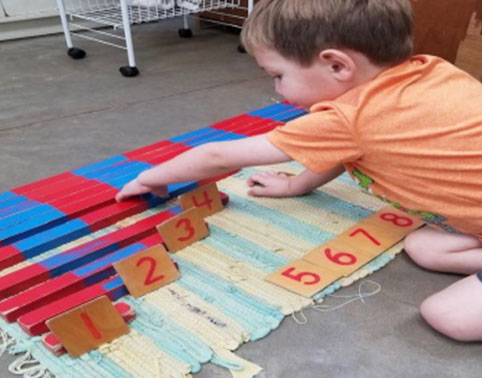 Mathematics
Language
Children are introduced to the phonetic sounds of the letters, which gives them the tools they need to understand written language. Language experiences encourage children to master, and blend sounds to build words, instead of the traditional memorization of sight words.
Students are GSM begin reading during this stage of development and proceed at their own pace. Grammar and different parts of speech are taught with concrete examples that keep the children more engaged with the concepts.
Mathematics
Early mathematics activities are designed to transform ideas into actions, using concrete learning materials in understandable manner. Each math idea, from quantity to the idea of zero, to the concept of odd and even numbering of numbers is explored. Addition, subtraction, multiplication, and division are introduced in concrete was an individualized pace for each child. After children gain a solid understanding of math concepts such as the four operations they are introduced to more abstract math.
Science
Science at GSM offers a wide range of explorations in areas such as botany, zoology, chemistry, physics, geology and astronomy. Our intent is to encourage children to explore the outdoors and bring nature back into the classroom giving them a sense of explorer. Children may write nature logs and document what they collected. Our intent is to encourage and cultivate children's fascination with the universe and nurture an interest and respect in nature and discovering more about the world around them.
Geography
History and Geography begins with the study of maps and the areas of the world. As children grow the come to understand various cultures and their heritage by learning about their clothing and food. We do an activity that encourages children to pick a country of their choice, make a passport to travel and visit other countries that their friends picked.
Arts
Painting, drawing, music, singing, moving around, and making creative crafts are some of the ways children explore in a Montessori classroom.